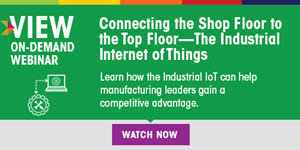 How the industrial Internet of Things is transforming the state of manufacturing.
Manufacturing is on the cusp of a revolution as new Internet-connected devices, equipment and software are all helping to build smarter factories.
Forward-thinking Canadian business leaders who embrace these new technologies and connect their shop floor to their top floor can make faster, more informed business decisions—and gain a significant competitive edge.
In this on-demand webinar, attendees will learn how manufacturing leaders can benefit from these new approaches to capture, display and analyze information from the plant floor and all along the entire supply chain—in real-time.
SPEAKERS: David Jirku, IoT Consulting Systems Engineer for Cisco Systems, and Dave Cavan, Regional Sales Manager for SYSPRO Canada
Explore how the new wave of innovation known as the Industrial Internet of Things can help manufacturing leaders to:
Drive inefficiencies out of factory and business systems—and increase the bottom line
Streamline operations and improve productivity
Optimize supply and demand strategies and improve customer satisfaction