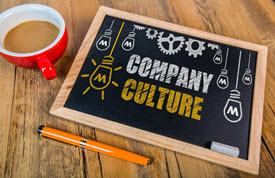 Last week I discussed the importance of building a strong sense of company culture and how culture impacts employee morale, permeates the quality of service provided to your customers, and helps attract future employees. Confirming that everyone is on the same page is crucial to ensuring that you are fostering your culture with intention and clear direction.
But how do you achieve this? How, in evolving industries and amongst diverse and specialized employees, do you get everyone on the same page? How can you ensure that all members of the company, from the CEO to frontline customer support, are acting in alignment? What tools can you employ to make sure you're creating a company culture that gets people up in the morning with a sense of purpose, and an awareness of how they fit into the big picture?
In order to build a corporate culture, you must align 3 basic elements of your business: the external perception of the company, your company's internal reality, and the hearts of the company's leaders to be visionaries in delivering a sound place to work.
So where do you start? The simple answer is communication, and lots of it. Building company culture starts with a top-down communication plan of corporate strategy, objectives and goals. The key to successful communication is the on-going continuation of communication—at every level of the business.
Next, employees need to embrace the vision and put it into action—live it, breathe it. Employees are your critical foundation and business leaders need to contribute as much time and attention required to create happy and engaged employee, in order to achieve a positive and sustainable corporate culture.
Employee performance, competency evaluations, goal setting and career assessments can help make sure that everyone is working towards the same overarching goals and being set up for success— both individually and for corporate performance.
Leadership teams need to check in with employees' on-going and provide insight into areas of personal performance and corporate key performance metrics (KPIs), to ensure they are being met and that they align all the way up the chain.
At SYSPRO Canada, we use a number of integrated and multi-faceted strategies to help us better determine and communicate our own corporate culture to our employees. We recently launched our first national employee survey to measure the overall employee satisfaction and uncover what we are doing well and what we are falling short at—in order to mitigate risk and take appropriate action. We have also initiated a formal employee performance management program that aligns our corporate objectives with employee performance—in order to ensure that we are all working towards the same goals—top down and bottom's up.
Of course all of this distils down to a few things that are quite fundamental to our own company ethos: people, customers, and technology. Building around these clearly defined competencies is a foundation-building, long-term game plan—one we have been evolving over our nearly forty years in Canada. When it comes to corporate culture, we realize there's always more work to be done, but, as one recent employee survey respondent stated, "there's nothing nearly so satisfying as sharing a set of values with those you work with, understanding how you all fit in with company strategy and then working together to achieve on those mutual goals. It makes going to work every day exciting and deeply rewarding."