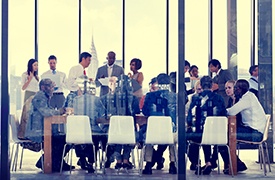 Inventory is one of the most significant costs for a manufacturing business. It represents money that's been invested at a negative rate of interest. The longer it sits unused, the more it costs. Inventory ties up a business' cash reserves, and it occupies expensive warehouse space.
For manufacturing leaders, inventory management can feel like a risky balancing act. Not having enough of the "right" inventory can spell disaster for meeting customer orders. However, having too much inventory or the "wrong" inventory on hand, can also negatively impact your bottom line.
Today's business leaders need to embrace formal inventory management strategies, in order to improve cash flow, reduce costs and realize optimal revenue potential.
This solution sheet, 3 Key Cost Control Strategies for Optimized Inventory Management, outlines leading cost control strategies for successful inventory management, as well as, highlights:
Common roadblocks or obstacles to successful inventory management
What effective inventory management should look like
How automation and technology, such as ERP, can reduce expensive inventory costs