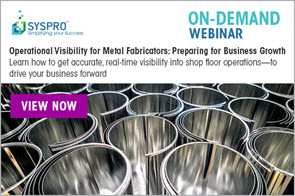 Discover how metal manufacturers can get accurate, real-time visibility into shop floor operations—to drive their business forward
As a metal manufacturer, the desire to grow your business can stem from wanting to increase your customer base, looking to enter new markets, or from developing an exit strategy. In order to gain a competitive advantage and plan for business growth, you must reassess your operations and look to increase manufacturing efficiency.
But how do you achieve the right visibility, across your metal fabrication business, to make the right decisions and drive your business forward?
The most critical factor for business growth success is accurate, real-time visibility into shop floor operations—to respond quickly and seamlessly to the changing needs of the business. This increased visibility across the organization drives business leaders to act more responsively to issues that arise, make sound business decisions based on facts, and proactively look for opportunities to enhance business processes for improved manufacturing efficiency.
This recent webinar, designed specifically for metal fabrication business leaders, explores key strategies to help you optimize visibility across your organization—when preparing for sustained, long-term business growth.
View On-Demand Here: Operational Visibility for Metal Fabricators: Preparing for Business Growth
PRESENTERS:
Jitendra (JT) Badiani, Principal, Focused Improvement Consulting
Darshnee Shah, Product Manager, SYSPRO Canada
In this 45-minute recorded presentation, our guest presenters share their deep industry insights into:
Operational challenges metal fabricators face, when planning for sustained business growth
A blueprint for success for people, processes, and technology in order to make data-driven decisions
Approaches for establishing strategies for accurate, real-time visibility into operations