​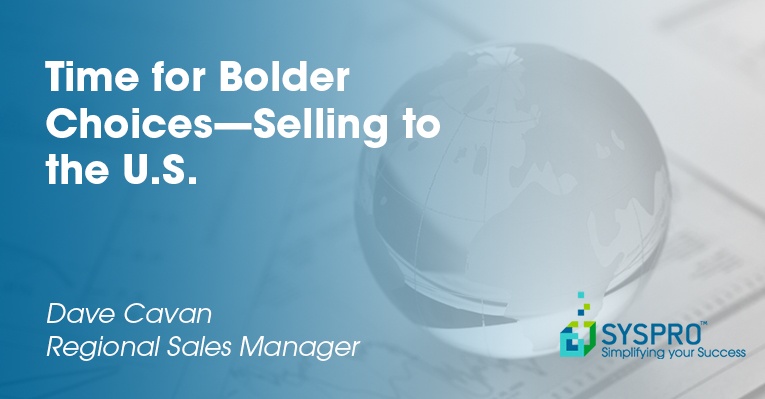 For Canadian manufacturers, the topic of U.S. expansion has been an interesting area of exploration for decades. Trade agreements like NAFTA facilitated the growth in trade with our southern neighbor over the past 20 years ago. Yet, despite this, as I discussed in my last blog post, "Time for Bolder Choices—A Canadian Deflection Point" only 4 percent of Canadian companies currently sell goods and services south of the border. Considering the size of the U.S. market, the conveniences of shared language, culture and geography, you would expect that number to be much higher. It raises an intriguing question—why isn't it higher?
To answer this question, we have to narrow our focus and get a little more specific to the considerations of the small and medium-sized manufacturing companies that make up Canada's diverse economy. When we do, we seem to consistently return to a simple estimation of risk.
From my over 25 years' experience working extensively in businesses both north and south of the border, I have noticed that Canadians appear more risk-averse than our neighbors to the south—and that is not necessarily a bad thing. Strategic and carefully vetted plans are often a smart approach to international trade. However, business leaders must keep in mind that the complexities of foreign regulations, fluctuating currencies, and potential risk associated with breaking into new local markets, are far outweighed by profit opportunities.
The most appealing benefit to establishing sales in the U.S. is its sizable population. At nearly 10 times that of Canada, the U.S. population contains a huge variety of diverse markets, made all the more accessible by common language and considerable cultural overlaps. What's more, with over two decades of U.S. trade precedence to build upon, guidance for quality assurance can be found by those who care to seek it out. From advisory expertise and partnership models, to insightful analytics tools to help manage logistics, you can build your U.S. presence on a well-established foundation of knowledge.
When it comes to selling beyond Canada's borders, breaking into the U.S. just makes sense. The knowledge you build closer to home can also be applied, when expanding farther afield—but I will expand more on selling in global markets my next post.
Want to learn more on this topic?
View our recent on-demand webinar, Expanding to the U.S.—Top Strategies for Exporting Growth, presented by our special guest speaker, President of Cogent Power, Ron Harper and myself, and discover how to prepare and execute a successful strategy for expanding business into the U.S.
In this on-demand webinar, you will learn how to prepare and execute a successful strategy for moving your business into the U.S., including:
Key considerations for success and pitfalls to avoid
Real-life lessons learned from Cogent Power
How to get started or streamline current business processes
Leveraging integrated technology and ERP functionality