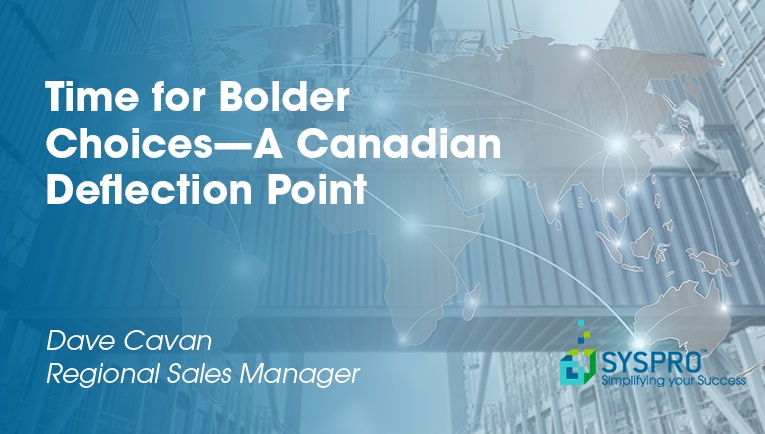 The time is prime for Canadian manufacturers to make some new, bolder choices when it comes to their businesses. Stagnant oil prices, reduced production and national politics make our dependency on Alberta oil increasingly precarious. In addition, international trade agreements like the Trans-Pacific Partnership (TPP) promise to create new trade possibilities abroad, and a rebounded U.S. dollar have shifted the playing field for business leaders. Taken together, these variables represent an interesting deflection point for Canadian manufacturers. If the benefits of selling internationally did not outweigh the costs before, they certainly do now.
This begs the question, "why not trade internationally?" Operating within a domestic population of only 35 million, Canadian manufactures with high-quality, globally recognized products have potential to make a real impact on the global stage. But most small and medium-sized manufacturers in Canada do not sell across the border. A meager 4 percent of Canadian companies export goods and services to our nearest trading partner, the U.S. Huge markets are within reach of Canadians–if only we are willing step out of our domestic comfort zone and access them.
The risk of selling across the border, of course, plays an important role in the small and medium-sized businesses. Smaller production volumes, tighter margins, and fewer resources can make foreign expansion look like a daunting task on the outset. Navigating the logistics of different laws and regulations, not to mention developing pricing policies as they relate to fluctuating currency exchange rates, can feel like a lot of "heavy lifting" work when first starting out. That's why selling internationally has to be treated as a long game–an established presence usually doesn't just happen overnight. But for those willing to take the plunge, the long game of expanding into international markets is for future and sustainable gain that can pay off big.
Market segmentation, strategic planning, local advisors or partners who can advise, can go a long way in helping to manage risk. Whether we're talking about Beijing or California, the strategies remain the same: figure out your market, identify your channel, manage transportation, supply chain and financials. While the specifics will shift, your tactics for approaching new markets can be used again and again, as you continue to diversify.
Considering the political and economic contexts around the globe, diversification will be key to ensuring continued economic growth for Canadians. And why not? There are very few markets in the world that are not open to Canadian manufacturers. Technology makes it easier to anticipate language and cultural differences, and with a wealth of experience from trade with the U.S., the possibilities are infinite. All we need is a little push into the unknown.
The past year in the oil industry has demonstrated just how dependent the Canadian economy is on raw materials. And that likely won't change, at least not in the short-term. For the time being, Alberta continues to produce oil, and we continue to depend on that wealth. But diversifying and expanding the manufacturing sectors we participate in, could play a serious role in the longer-term future of Canada. If only individual companies are willing to lead the charge in selling across our borders—always a risk, but one with great potential for big future payback.
Want to learn more on this topic?
Download our complimentary eBook, Expanding to the U.S for Canadian Manufacturers: Top Strategies for Export Growth—A Complete Guide for Canadian Manufacturers to get started with your U.S. growth strategy.