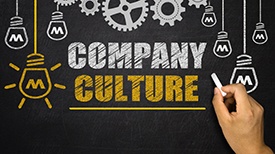 How to build and sustain a strong sense of corporate culture is a pressing question that many leading executive teams struggle with. In competitive markets for top talent, organizations are beginning to realize and more importantly prioritize the need for a positive and engaging corporate culture,in order to retain top talent and with the hope of attracting and recruiting future talent.
Corporate culture is a hot topic for the leadership team here at SYSPRO Canada and for good reason. As we continue to evolve our business, we strive to plot a course of building an organization with a strong identity in the marketplace with dedicated and engaged leaders to help serve our employees, customers and partners.
Company culture defines an organization's DNA. It directly impacts employee morale and engagement, permeates the quality of service provided to your partners and customers, and helps attract future employees based on a sound reputation and an external perception of your corporate culture and identity.
Forward-thinking business leaders, looking to grow a talented workforce to better serve their businesses, need to be mindful that their current state of culture, not only helps retain employees that you want to remain, but also helps attract and recruit future top talent. Happy and dedicated employees are also more likely to refer friends to roles, and in smaller geographic regions or business sectors, positive (or on the flip side negative) word of mouth can also heavily influence potential for future recruits. In a fast-paced evolving industry like the tech sector, attracting and retaining top talent often comes down to a perception of cultural fit.
And if culture is the foundation of any business, companies need to start thinking about it in multi-faceted ways. While some people's take on corporate culture is influenced by casual Fridays and Christmas festivities, these are overly simplistic markers of the deeper vibe of our workplaces.
This 'feel' of a company is not solely defined by corporate mandates, but also shaped by the ways that individuals perceive and take on that culture. Confirming that everyone is on the same page is crucial to ensuring that you are fostering your culture with intention and clear direction.
But how do you achieve this? In next week's blog post I'll delve into some strategies that we've employed at SYSPRO Canada to ensure that everyone is on the same page regarding company culture.