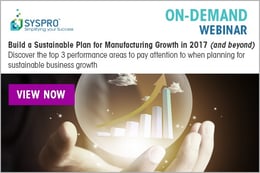 Discover the top 3 performance areas manufacturing leaders need to pay attention to when planning for sustainable business growth
A new year brings reflection, new goals—and new plans! As 2017 gets underway, many Canadian manufacturing leaders find themselves refocusing their efforts on business growth. Recent world events such as Brexit, the U.S. election and uncertain near-future trade agreements; a weak Canadian dollar; declining oil prices; and global economic instability have caused levels of cautious optimism for the future of Canadian manufacturing when it comes to both short and long-term growth potential.
The key to achieving successful growth is to ensure that business plans are well-developed with a clear emphasis on performance areas of scalability and flexibility—for sustainable and achievable success.
View this recent, on-demand webinar and explore key highlights from the recently published Manufacturers' Outlook Report (produced by PLANT Magazine). Plus, discover subject matter advice and actionable insights from our guest speakers into how to prepare your business for growth in 2017 and beyond.
View On-Demand Here: Build a Sustainable Plan for Manufacturing Growth in 2017 (and beyond)
PRESENTERS:
Jim Menzies, National Leader – Manufacturing Industry, Grant Thornton LLP
Shane Troyer, Partner – Business Risk Services, Grant Thornton LLP
Dave Cavan, Regional Sales Manager, SYSPRO Canada
This 45-minute, recorded presentation, designed exclusively for manufacturing leaders, explores the top three performance areas business executives need to pay attention to when planning for short and long-term manufacturing, including:
Expansion into New Markets: Discover today's significant export opportunities for Canadian manufacturers; how to get started; and ways to successfully navigate common challenges and pitfalls
Cyber Security: Learn why all manufacturing businesses, regardless of size, should be concerned with the rise in cyber attacks—and how to protect yourself
The Changing Face of "Connected" Technologies: Discover the Industrial Internet of Things (IIoT), and why manufacturers need to accept it as a viable way to increase their productivity and competitive advantage