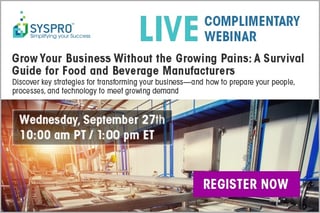 Join us for a complimentary, 45-minute webinar, designed specifically for manufacturing leaders in the food and beverage industry, where we will share deep industry insights into 5 key strategies and considerations for transforming your business to meet growing demand
If you are a food or beverage manufacturer, ask yourself this critical question…. "Do you have the necessary people, processes and technology in place to seize new opportunities and grow your business successfully, at a manageable rate?"
Growth, especially fast growth, is not always easy to handle for many manufacturers—but a proactive, step-by-step approach can help make it more manageable.

The increased demands on your business tax your organization, and when coupled with time-constraints, can force you to use band-aid solutions for each new crisis without the luxury of time to consider the implications on your long-term growth. Being unprepared for increased demands leads to risk; risk increases costs and inhibits growth.

The good news is that some growing pains are avoidable, so long as you properly prepare your organization for proper and sustained growth. Having the right infrastructure in place—the people, processes and technology will enable food and beverage companies to effectively handle the challenges that come with rapid growth.
Join us for a complimentary, 45-minute webinar, designed specifically for manufacturing leaders in the food and beverage industry and hosted by Food in Canada. In this webinar, we will explore key strategies and considerations for transforming your business and how to prepare your people, processes, and technology to meet growing demand.

Our guest speakers will share their deep industry insights into the top 5 key strategies for preparing your food and beverage business for sustained growth, including:

- Developing a successful "right people, right place, right time" strategy
- Connecting processes & systems for greater visibility and making data-driven decisions
- Optimizing technology such as ERP, to mitigate risk and improve efficiency

DATE: Wednesday, September 27, 2017
TIME: 10:00 a.m. PT/ 1:00 p.m. ET
Register Here: Grow Your Business Without the Growing Pains: A Survival Guide for Food and Beverage Manufacturers
PRESENTERS:
Jim Menzies, National Leader, Manufacturing Industry | Grant Thornton Canada
Rosanna Lamanna, Partner | Grant Thornton Canada
Steve Bassaw, Product Evangelist | SYSPRO Canada