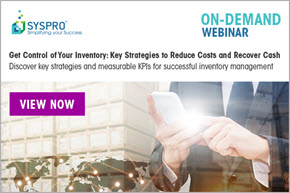 Discover why successful business leaders today need to embrace formal inventory management strategies to reduce costs and recover cash
For manufacturing leaders, inventory management can feel like a risky balancing act. Not having enough of the "right" inventory on hand could spell disaster for being able to fulfill customer orders. However, having too much inventory or the "wrong" inventory on hand can also negatively impact your bottom line. Inventory is money that's been invested at a negative rate of interest. The longer it sits unused, the more it costs. Inventory ties up a business' cash reserves and it occupies expensive warehouse space.
Inventory is one of the most significant costs for a manufacturing business, so its optimization should be (needs to be) a key corporate objective.
Do you know how inventory risk impacts your business?
View this recent, on-demand webinar and discover how embracing formal inventory management strategies can help improve cash flow, reduce costs and realize optimal revenue potential
View On-Demand Here: Get Control of Your Inventory: Key Strategies to Reduce Costs and Recover Cash
PRESENTERS:
Roberta McPhail, APICS Master Instructor, CPIM, CIRM, CSCP, CDDP, PMP
Steve Bassaw, Product Evangelist, SYSPRO Canada
This 45-minute, recorded presentation, designed exclusively for manufacturing leaders, explores key strategies for successful inventory management—to reduce costs and recover cash, as well as highlights:
Common roadblocks or obstacles to successful inventory management
An overview of top planning methods such as Reorder Points, MRP and DDMRP
Best practices and KPIs that manufacturing leaders should be measuring for success
How automation and technology, such as ERP, can reduce expensive inventory costs