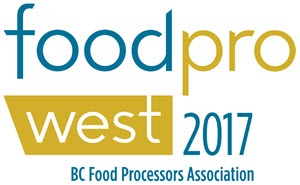 FoodProWest is an annual industry event that brings together the best of B.C.'s food, beverage, and natural health products processors, as well as service providers, buyers, and industry leaders. This special, one-day event allows leaders in the food and beverage sector to network with peers, access the best and brightest thinkers in the industry, connect with thought leaders, and gain insight into the latest trends and issues affecting B.C.'s number one manufacturing industry.
In addition to the exclusive day's events, attend the Awards Gala and Dinner in the evening to help celebrate with the BCFPA Awards finalists and winners.
Join your industry peers and SYSPRO Canada at The Westin Bayshore on June 8th to:
Build relationships with domestic and international retail buyers
Connect with suppliers whose products and services can help your business succeed
Network with industry professionals and fellow colleagues to share best practices
Solicit advice on the latest issues affecting B.C.'s number one manufacturing sector
Meet the "best of the best" in the industry, who will be recognized and honored at the BCFPA Awards Gala
Want to attend?
Register today: https://www.bcfpa.ca/foodprowest/register/now
International Buyers Day & Trade Show:
9:00 a.m. – 3:00 p.m.
Gala Awards Dinner:
5:00 p.m. – 6:00p.m. (Cocktails)
6:00 p.m. – 9:30 p.m. (Dinner and Awards)
Space is limited. Don't miss out. Sign up now.
Why meet with us?
Come by BOOTH #508 to meet our dedicated SYSPRO team and hear first-hand:
How successful automation and ERP technology provides business leaders with the means to handle the complexities of the food and beverage industry
How to leverage the right ERP solution to help grow your food business, by providing the right tools that you need to manage your company's operations efficiently
How top food processors are successfully reducing their compliance complexity and business risk, with a well-defined compliance strategy
Want to learn more?
Discover how today's food and beverage leaders can avoid the pitfalls of regulatory compliance complexity—and improve the management of their business.
Download our solution sheet today!
This informational guide, The Cost of Compliance: What Food and Beverage Manufacturers Must Know to Avoid Paying the Ultimate Price, is designed specifically for manufacturing leaders in the food and beverage industry, and provides a brief overview of:
Challenges in the food and beverage industry
Business solutions for improved compliance
Enterprise Resource Planning (ERP) and SYSPRO
SYSPRO Representatives who will be in attendance, include:
Steve Bassaw
Product Evangelist | SYSPRO Canada

Nelson Roque
Account Manager | SYSPRO Canada