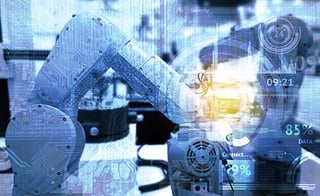 The Industrial Internet of Things (known as IIoT) is the next wave of innovation impacting the way the world connects and optimizes machines. It covers all aspects of a manufacturing business—blurring traditional boundaries between plant operations, supply chain, product and demand management.
The IIoT is ushering in a new era of vastly improved productivity in the world of supply chain and production process, and can provide manufacturers with a distinct competitive advantage.
Accenture estimates that the IIoT could add more than $10 trillion to the global economy by 2030. That number could be even higher if companies were to take bolder actions and make greater investments in innovation and technology than they are doing today.
The Internet of Things or IoT was coined in 1999; however, the concept of IoT has much deeper roots, with its origins dating back to the early 1980's.
So what is it?
Different people have different ideas as to what exactly IoT represents, but the general concept of IoT is that with the progression of technology and internet connectivity, devices, machines or objects that haven't traditionally been connected, can now become a network of intelligent or "smart" computers, devices and objects that collect and share huge amounts of data.
The earliest example of an IoT application was in 1982, when a Coke machine, installed at Carnegie Mellon University, was able to report low inventory levels and whether the drinks in the machine were cold enough. Since then, there have been many examples of IoT in action. However, IoT has found its niche in the past few years with the advent of modern, consumer devices that were not traditionally connected to a network including televisions, refrigerators and other home devices, and cars.
This eBook Reimagining Manufacturing with the Industrial Internet of Things (IIoT): Why Manufacturers Need to Connect the Shop Floor to the "Top Floor" for a Competitive Advantage, provides an overview of how the Industrial Internet of Things (IIoT) helps manufacturers gain valuable insight and actionable data into business performance from the shop floor right up the "top floor".
In this eBook, you will learn:
The origins of the concept of "The Internet of Things"

Key business benefits for connecting the shop floor to the "top floor"