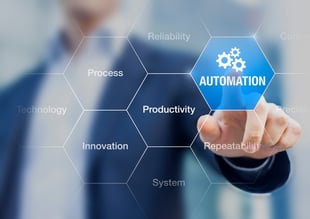 As a Chief Operating Officer, you may have considered automating some or all parts of your supply chain in an effort to reduce operating costs. If automating your supply chain seems like a daunting task, and the thought of evaluating every business process to find ways to replace manual and time-consuming tasks with a more efficient solution seems overwhelming, rest assured—it is worth the time and effort you put into it—as the benefits of automation far outweigh the costs associated with it. Finding ways to improve the efficiency of your organization through automation can provide a flawless experience for both your customers and employees—ultimately saving you time and money.
Simply put, automating your supply chain can accelerate the rate in which your product or service moves from supplier to the customer—while reducing costs and growing your bottom line in the process.
Supply chain automation can come in a variety of forms. It can mean automating part of a task to improve an employee's productivity, or it can mean replacing an entire task with an automated process—eliminating the need for any human intervention. In some instances, the customer experience can be one of complete automation. One where a customer goes online to place and pay for an order electronically, receives the order and shipping confirmation electronically, and receives the product directly from the manufacturer or wholesaler with no effort by the retailer to physically transport the product—complete automation.
In this digital age, it's hard to believe that some companies still continue to exhaust their resources with manual, labor-intensive tasks. These tasks are detrimental to the growth of the organization as they will drain resources. Complete automation of processes—as outlined by the scenario just described—the matter in which a product is ordered and delivered to the customer with complete automation, should be the goal of every large organization.
This eBook, A COO's Guide to Supply Chain Automation: How to Gain a Competitive Advantage Through Automation, outlines important information to an organization considering automation, including:
The Benefits of Supply Chain Automation
How to Analyze and Evaluate the Need for Automation
Identifying Opportunity for Automation
Recommendations and Designing Workflow Automation
Examples of Automation in an Organization
Evaluating Automation